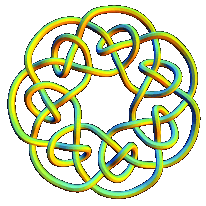 Our experience will enhance your experience!
East Coast Counties
Except Dublin
Our look at Glendalough, Avoca, Waterford and Kildare. For Dublin start at the Dublin page :-)
---
Glendalough & Avoca
This area is one of the most visited because it is a pleasant drive out of Dublin, about 60 minutes of good scenery and then even better vistas within the Wicklow Mountains National Park and Glendalough valley.
It is a great area for getting out and stretching your legs on paved paths along streams and by lakes. The round tower and surrounding monastic ruins go back to the earliest days of Irish Christianity. While we were there the mood was enhanced by a flautist somewhere off in the woods.
When leaving be sure and take the route through Avoca. Here you will find a well preserved
old mill and a modern factory for weaving wool. It is one of the few places left where you still have the choice of wandering around at your own pace or joining with a guide to get your questions answered. You will see Avoca products throughout Ireland but they will be more meaningful once you have talked with one of the workers who made them.
Waterford
Waterford is billed as Ireland's oldest city but our visits focus on the Waterford Crystal showroom and factory. They are fascinating; I highly recommend a visit. The video below is a someone else's found on YouTube.
Our last trip we did manage to take a few photos at the Viking Triangle.
Our most distinctive B & B stay was in 2012 at the imposing Blenheim House. In 2016 we stayed in the very near by seaside resort town of

Tramore.
The
Waterford Greenway
is a magnificant new bike and walk trail on an old railway. Rental bikes available.
Kildare
(Not exactly East Coast but only a 30 minute drive from Dublin's M50
.)
In travelling to every nook and cranny of Ireland we usually shoot right through the middle of the country. In 2017 we are making up for that by investigating further some by-passed spots. The first of these is Kildare. In old days one drove through the town on the N7 now one has to exit the M7 and stop at Kildare Village, an upscale outlet mall. Of course, I only recommend this mall for those who love shopping because bargains are few and far between. Except for the Clark's outlet; I got a good deal on discontinued shoes there.
The Irish National Stud and Gardens itself is very impressive. Frankly well maintained grounds are rare in Ireland so these stand out in the attention to detail. Everywhere you look there is something pleasing to the eye. Our April visit was cold and rainy but it was still a delightful experience from start to finish. The stallions were in their stalls rather than paddocks and not much movement but still quite interesting. Of course, the Japanese garden was the highlight but the desserts and coffee in the restaurant were great too.
Speaking of which, there are several well rated eating and drinking establishments centered around the town square. So plan your cross country itinerary to include a stop in Kildare. I know I will next time.
Top