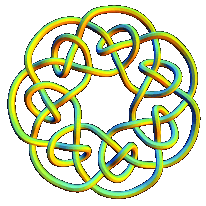 Our experience will enhance your experience!
County Kerry
Our favorite place to visit
Although we chose to live in Co. Clare and loved our life in West Cork, County Kerry is our favorite place to visit. It is chock full of wild beauty and delightful towns.
This page written by Karin.
Dingle
Dingle is a lovely fishing village in an extremely remote and gorgeous area known as the Dingle Peninsula. I have seen it when it is sunny and warm and when it is windy and rain lashing down. It never ceases to enthrall me!
Dingle is in a Gaeltec area, meaning the Irish language is preserved and widely spoken here. My daughter and I experienced that when we went to church and the entire service was in Irish! Road signs treat English as a foreign language it seems.
On another visit with our son we walked to the edge of the bay to watch Fungi, the famous dolphin, play in the water. We have
enjoyed Dingle's restaurants and pubs with music sessions. Recently we took guests and happened to arrive on Market Day. We ate the best lamb burgers any of us had ever tasted!
But the best part is the 19 mile circular drive around Slea Head, called "The most beautiful scenery in the world" and I won't quarrel with that! Even seeing it on a cold January day with the waves splashing up onto the road was as rewarding as enjoying it on a calm sunny day.
There are many sites to see besides scenery. The Blasket Islands off shore are famous in Irish history, and many ancient sites too numerous to mention here. Every turn of the road offers a view that brings ooh's and aah's and many stops for photos.
I strongly urge anyone coming to Ireland to make sure Dingle and Slea Head are on there list of places to see. You will definitely not be sorry.
Killarney
When we visit Killarney, we usually think of the area more than the town itself. Killarney town is very touristy so we usually make a quick stop
and then continue on to see the absolutely beautiful surroundings. Driving through town can be a bit slow sometimes due to congestion but everyone is having fun either riding in the very popular horse traps or watching those who do. We have often seen brides arrive at their wedding in elaborate carriages. The town has the usual restaurant and shopping selections with loads of B&B's and hotels from which to choose.
A short drive south of town is a place we do stop every time, Muckross House, a large estate on Lough Leane in the Killarney National Park. Many rooms are open to a tour that allows you to appreciate the romantic history of the families that lived there. However, we return over and over just to walk on the grounds and view the lake. There are hiking trails here and one time we chose to hike from Torc Falls going around the lake to Muckross House. We still remember this as one of our best hikes ever.
Once on the road again, and going past Torc Falls you head up into the McGillicuddy Reeks, a mountain range which has some of the tallest peaks in all of Ireland. Near the top is a view point called Ladies View (named after Queen Victoria who came with her Ladies to see the lakes below). This is a breathtaking site.
North of Killarney is the Gap of Dunloe, a fantastic pass between two mountains and definitely a place to go. We prefer to do it the hard way...driving through the mountains to find the road at the top that goes downhill. This is not advised unless you are reasonably comfortable with Ireland's narrow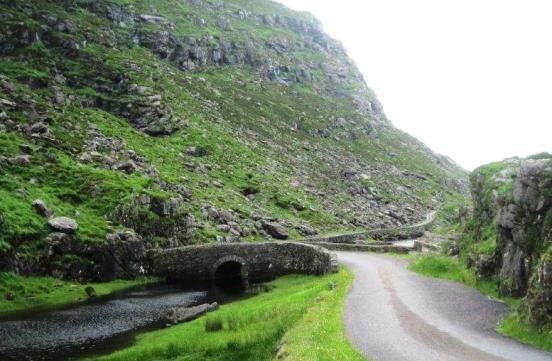 roads. Most people enjoy the Gap by parking at the bottom then either hike up or hire a jaunting cart to the top and back. Either way, it is dramatic. The road is very very narrow; you cross narrow old stone bridges with gushing streams, and walk along side small tarns (lakes). It is wild, remote and very special.
I really love the Killarney area and love going back many times over, especially to show family, friends and you, our readers.
Tralee
Tralee is a town we usually pass through on our way to somewhere else (Dingle for instance), but when we discovered the train went to Tralee we decided to go take a day and find out more about it.
Tralee is famous for it's international competition called the "Rose of Tralee". The idea came for a festival when the local businesses came up with the idea on how to bring tourists to the town during the horse racing meeting and to encourage ex-pats back to their native Tralee. So they came up with the idea of a selecting a Queen to represent the town. The girl is selected on personality, not on beauty or talent. The ballad sung to the Queen comes from the song about a woman called Mary who, because of her natural beauty was called "The Rose of Tralee".

In town is a wonderful Park with an extensive Rose Garden. In the center of this garden is a statue to commemorate the Rose of Tralee
I love churches and Tralee has a very beautiful Cathedral called St. Patrick's.
Tralee is a very small town so there wasn't actually a lot to see and do, but we found it to be a delightful town. I loved this sweet house and could imagine myself living in it....even if on a busy street! It was For Sale, and we thought it would make a wonderful restaurant.
Top